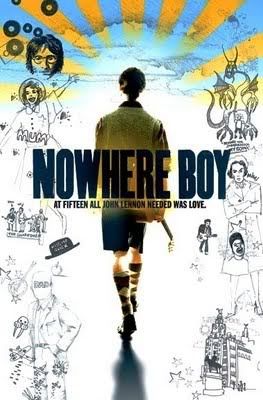 Da música dos Beatles "Nowhere Man", onde o filme foi buscar a referência,
Nowhere Boy
tal como o seu título indica é uma produção britânica sobre a infância e juventude de John Lennon, aqui interpretado por Aaron Johnson.
Escrito por nada menos do que Matt Greenhalgh, de
Control
(do biopic de Ian Curtis), e realizado pelo fotógrafo Sam Taylor Wood, que tem aqui a sua estreia como realizador, o filme é baseado no livro biográfico "Imagine This: Growing Up With My Brother John Lennon", escrito por Julia Baird, a meia-irmã de Lennon.
Nowhere Boy
é também maioritariamente um retrato da sua relação com a sua tia Mimi (Kristin Scott Thomas), a sua mãe Julia (Anne-Marie Duff) e o início da sua amizade com Paul McCartney (interpretado pelo jovem Thomas Sangster). Um refúgio da adolescência na música, que irá dar origem aos The Beatles.
A banda sonora, apesar de ter alguns temas incluídos do mítico quarteto de Liverpool, é assinada pelo duo britânico Goldfrapp.
Nowhere Boy
teve a sua estreia mundial no London Film Festival em Outubro passado, e passou recentemente pelo Festival de Sundance. Está previsto a chegada às nossas salas no dia 2 de Março de 2010.