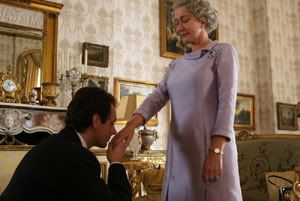 A
New York Film Critics Online
já anunciou, hoje, a sua lista de vencedores deste ano.
The Queen
de
Stephen Frears
foi o grande vencedor com cinco prémios, incluindo o de
melhor filme
,
melhor actriz
para
Helen Mirren
,
melhor actor secundário
para
Michael Sheen
, como
melhor argumento
de
Peter Morgan
e melhor
realização
para
Stephen Frears
. Na outra categoria principal, a de
melhor actor
, o prémio foi para
Forest Whitaker
no seu papel principal em
The Last King of Scotland
.
Aqui ficam os restantes vencedores em todas as categorias:
Picture - The Queen
Actor - Forest Whitaker (The Last King of Scotland)
Actress - Helen Mirren (The Queen)
Director - Stephen Frears (The Queen)
Supporting Actor - Michael Sheen (The Queen)
Supporting Actress - (tie) Jennifer Hudson (Dreamgirls) & Catherine O'Hara (For Your Consideration)
Breakthrough Performer - Jennifer Hudson (Dreamgirls)
Screenplay - Peter Morgan (The Queen)
Documentary Feature - An Inconvenient Truth
Foreign Language Picture - Pan's Labyrinth
Animated Feature - Happy Feet
Cinematography - Dick Pope (The Illusionist)
Film Music/Score - Philip Glass (The Illusionist)
Humanitarian Award - Deepa Mehta (Water) for taking risks to create films about the difficulties of social change in India especially as it affects women.
E o
top 10
dos filmes mais votados:
Babel
;
The Fountain
;
Inland Empire
;
Little Children
;
Little Miss Sunshine
;
Pan's Labyrinth
;
The Queen
;
Thank You for Smoking
;
Volver
;
Water
;