A 5 de Dezembro de 1901 nascia
Walter Elias Disney
, faz hoje 105 anos e é um senhor que dispensa quaisquer apresentações.
Walt Disney
faleceu a 15 de Dezembro de 1966 por complicações cardíacas derivadas de cancro. Fica aqui a menção honrosa deste blog ao maior nome da animação de sempre.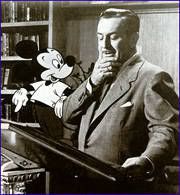 "I'm not interested in pleasing the critics. I'll take my chances pleasing the audiences."