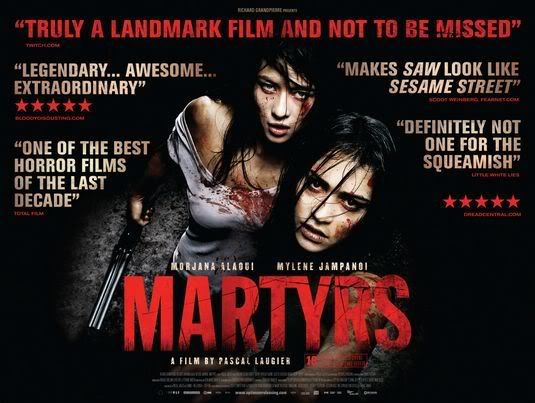 O prestigiado
Mélies d'Or
, galardão que consagra o melhor filme fantástico Europeu, foi atribuído este ano ao fabuloso e intenso filme de terror francês Martyrs, de Pascal Laugier (só mesmo para estômagos fortes). Como melhor curta-metragem, o prémio foi para Cold and Dry (da Noruega), de Kristoffer Joner.
Os restantes nomeados eram Mum & Dad de Steven Sheil (Reino Unido), Absurdistan de Veit Helmer (Alemanha), Sauna de Antti-Jussi Annila (Finlândia), 3 Días de F. Javier Gutiérrez (Espanha), Butterflyzone de Luciano Capponi (Itália), Linkeroever de Pieter Van Hees (Bélgica), Moon de Duncan Jones (Reino Unido) e Panique au Village de Stéphane Aubier e Vincent Patar (Belgica, França e Luxemburgo)
A gala de atribuição dos prémio é desde o ano passado organizada pelo festival de Sitges na Catalunha. Fundados em 1996, os prémios europeus Mélies é a única competição organizada entre os festivais europeus (Fantasporto incluído) que premeiam filmes do género fantástico europeus. Entre os vencedores passados encontramos nomes como: Let The Right One In de Tomas Alfredson (Suécia), El día de la bestia de Álex de la Iglesia (Espanha), Los sin nombre de Jaume Balagueró (Espanha), Possessed de Anders Rönnow-Klarlund (Dinamarca), The Green Butchers de Anders Thomas Jensen (Dinamarca), Princess de Anders Morgenthaler (Dinamarca), Adam's Apples de Anders Thomas Jensen (Dinamarca) e Code 46 de Michael Winterbottom (Reino Unido).