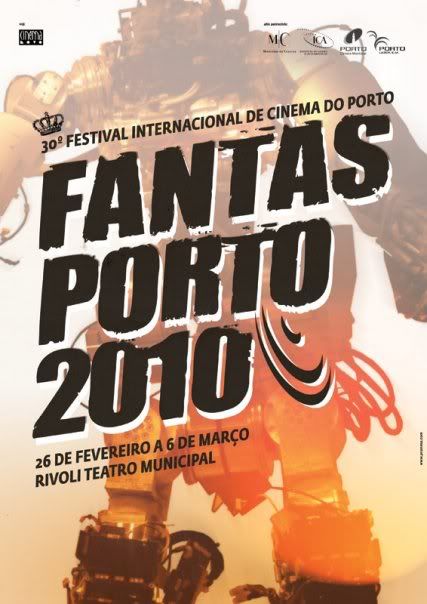 O
Fantasporto
está prestes a comemorar 30 anos de existência. A próxima edição decorre na cidade do Porto (no teatro Rivoli) entre 26 de Fevereiro a 6 de Março e apesar de ainda não terem a programação fechada (e de ainda sofrerem possíveis alterações) já adiantaram alguns títulos que farão parte do cartaz. Os filmes foram anunciados no
facebook oficial do festival
, por Mário Dorminsky, um dos fundadores.
Os grandes destaques são
[REC]2
, de Jaume Balagueró e Paco Plaza, a sequela do grande vencedor do Fantasporto 2008; O filme de terror sensação norueguês
Dead Snow
(DØD SNØ) de Tommy Wirkol; O aclamado
Fish Tank
, de Andrea Arnold;
Deliver Us From Evil
(Fri os fra det onde), de Ole Bornedal;
Solomon Kane
, de Michael J. Bassett;
Splice
, com Adrien Brody e Sarah Polley no novo filme de Vincenzo Natali, um dos nomes já bem conhecidos do festival;
The Crazies
, de Breck Eisner, o remake da obra original de George Romero; A sequela do filme de Neil Marshall,
The Descent 2
, esta realizada por Jon Harris; E
Tetsuo: The Bullet Man
, o novo de Shinya Tsukamoto, uma saga bem conhecida do festival.
Da secção Orient Express, o grande destaque vai para
Thirst
de Chan Wook Park. De Yoshihiro Nishimura e Naoyuki Tomomatsu, as mentes que nos trouxeram Tokyo Gore Police, exibido na ultima edição do festival, temos este ano ainda mais sangue noutro filme bizarro,
Vampire girl vs Frankenstein Girl
(Kyûketsu Shôjo tai Shôjo Furanken).
Robogeisha
, de Noboru Iguchi também será exibido, do mesmo realizador de Machine Girl, uma excelente aproximação do animé em filme.
A Frozen Flower
(Ssang-hwa-jeom), de Ha Yu e
The Air Doll
(Kûki ningyô) de Hirokazu Koreeda são os restantes nomes conhecido da secção Asiática.
Dos restantes títulos divulgados temos:
Death of the Virgin
, de Joseph Tito; O thriller psicológico espanhol
Hierro
, de Gabe Ibáñez;
L'uomo che ama
, de Maria Sole Tognazzi;
Palata N°6
(Ward No. 6), de Aleksandr Gornovsky e Karen Shakhnazarov;
Salvage
, de Lawrence Gough;
Sauna
, de Antti-Jussi Annila;
Skjult
, de Pål Øie;
T.M.A.
, de Juraj Herz's;
The Time That Remains
, de Elia Suleiman;
Dolan's Cadillac
, de Jeff Beesley, baseado numa história de Stephen King e com Christian Slater no papel principal, e
Valhalla Rising
, de Nicolas Winding Refn.
Nas retrospectivas, como previamente anunciado, teremos um ciclo dedicado à robótica no cinema que é a temática deste ano do festival e uma retrospectiva dedicada ao cinema de terror, (a bem) conhecida por 'Salve-se Quem Puder!'. O Fantasporto vai também homenagear este ano a obra de Luis Galvão Teles, e o cinema francês.